Skip to Content
8 Ways To Make Your Home Guest Ready
8 Simple Ways To Make Your Home Guest Ready
It's that time of year again. You will be opening your home to friends and family. And you want it to impress. Here are 8 simple things you can do to make sure your home is ready for the parade of holiday guests.
Front Entrance
The front entrance is the first thing guests see when they come to your house. A quick coat of paint is the quickest way to freshen up your front entrance.  Repair any rotten wood on the door frame and around the entryway.  Not only will a new door impress your guests, but it can also help save on heating costs as well.
Foyer
Touch up any scuffs marks in this high traffic area. Simple paint touch-ups will give your foyer and entry area a freshly painted look.
Revive the Kitchen
The quickest and easiest way to give your whole kitchen a facelift is by painting the cabinets. Change the color and install new hardware to give your kitchen a new, modern look without the hassle of a full kitchen renovation.
Guest Room
The best way to make your overnight guests feel at home is with an inviting guestroom. These seldom-used rooms benefit greatly from a fresh coat of paint and freshly laundered linens. Be sure to clear space in the drawers and closets and have an area for their suitcase.
Family/Living/Great Room
This is the room your guests will spend the most time in. Look for any visible scratches or scuffs. A few touch-ups or a fresh coat of paint on the walls will make the room look fresh and all your décor pop.
Bathrooms
Bathrooms are easy to update with some new moldings, a fresh coat of paint Updating paint pulls, light fixtures, linens and accessories are easy ways to breathe new life into the space.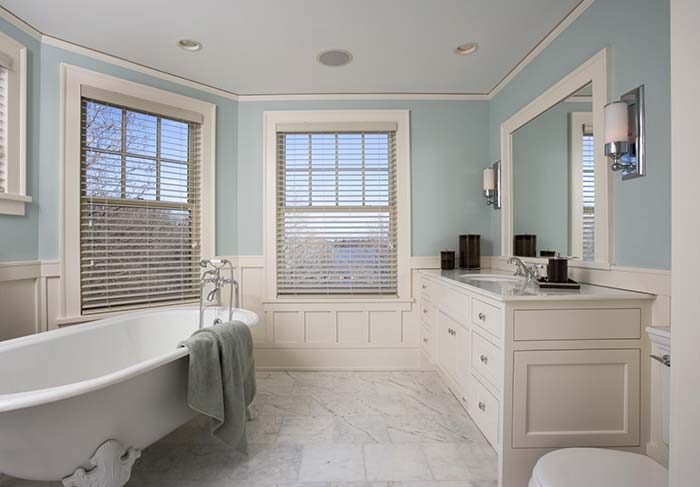 Finish/Refurbish the Basement
Many basements are plain, empty, unused spaces that rarely see visitors. Why let all that space go to waste? Create an entertainment area that will "wow" your guests! Add a fabulous bar area or turn this space into a gaming area for the kids to hangout.
Decorate in Each Room
Even the smallest touch of a seasonal plant or light will make your whole home feel festive.
Already have too much on your plate this holiday season? Let Westchester's professional painters and carpenters at Korth & Shannahan Painting and Carpentry prepare your home for the holidays 914-238-5388.