Skip to Content
7 Signs Its Time To Repaint Your Exterior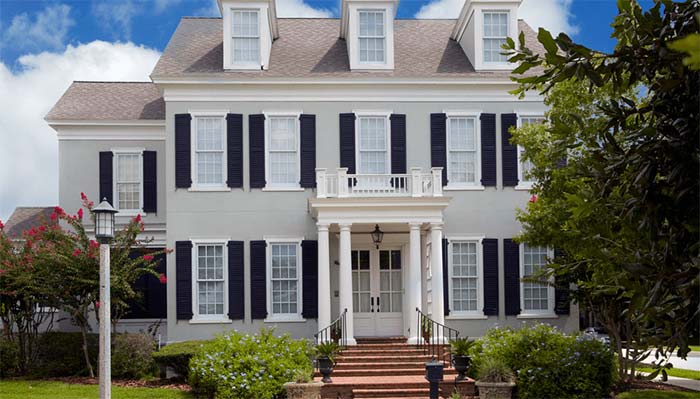 The time between exterior paint jobs will vary from house to house. Weather, moisture levels, the type of home, and the quality of the paint job all play a role in how long before you need to repaint your exterior. Keep an eye out for these tell-tale signs it's time to repaint. When your home is giving you these signals, you'll know it's finally time to update your exterior paint job.
Damaged Stucco and Wood
While paint does help to keep these surfaces protected from the elements, no surface will last forever. You may see cracks in your stucco or signs of rotting in wood. At this point, you'll need to assess the damage and repair the surface. Once this is done, it's important to give the house a fresh coat of paint to ensure the surface is properly protected from the elements.
Bubbling, Cracked, or Peeling Paint
If you spot paint that is peeling, cracked, or bubbling, it's important to take action right away. Once paint peels away, it leaves parts of your home exposed to the elements. This could cause long-term damage. If the wood is exposed to rain or snow, it could lead to mold, mildew, and even rotting. If you notice any of these symptoms, it's a sure sign that it's time to give the whole exterior of the house a fresh paint job.
Cracked Caulking
Caulking is usually around your doors and windows and is used to properly seal them. If you notice small cracks in these areas, they can sometimes be repaired by simply filling them in with fresh caulking. If left untreated, this can allow for moisture to seep in, which could cause lots of expensive damage. If you notice larger cracks, you'll definitely want to replace the caulking and add a fresh coat of paint for an added layer of protection.
Moisture Stains and Mold
Moisture stains and mold are sometimes just surface stains that can be wiped away or removed with pressure washing or a little elbow grease. However, sometimes these stains can be signs of deeper damage. If you can't remove a stubborn stain, it's a good idea to have a professional take a look at it. Many stains just need to be painted over, however, you might need to replace the material if there is more extensive damage.
Fading Colors
After years of standing up to rain, snow, and intense sunlight, it's likely that your exterior paint will start to fade. Fading is much more than just an aesthetic issue – it's often the first sign that your paint job is no longer providing the protection your home needs. If you notice the color is lacking a bit dull or flat, it's a good time to consider a fresh paint job. Not only will you give your home a facelift, but you will also keep it better protected from the elements.
You're No Longer in Love With the Color
Sometimes the need to paint the exterior of your home is purely an aesthetic one. If the house was painted in more of a trend color the last time it was done, it may start to look a little dated. When you're ready for something new, make sure you take the time to choose the right color for your home's exterior. After all, it's a lot of work to repaint a whole house if you decide you don't like the color. Consider the style of your home, the color palette of other homes in your neighborhood, and the surrounding environment.
Pick the Right Season
When you know it's time to repaint your exterior, you'll want to think about the season. It's best to have your paint job done during the spring, summer or fall months to ensure you have optimal painting weather. The days tend to be warm and dry, which will allow the paint to dry and cure properly.
Looking for a beautiful, professional paint job for your home? Call the experts at Korth & Shannahan Painting and Carpentry. Voted Best General Contractor by Westchester Magazine. 914-238-5388