Skip to Content
5 Simple Ways To Make Your Home Feel Bigger
1. Painting Monochromatic
Although paint doesn't add extra space it can give the appearance of being larger. Lighter colors and mirrors add that illusion of more space.
2. Converting the Basement
Don't let all that empty space underneath your home go to waste. A basement remodel is a great way to add the space you need to your home. Need a bigger laundry room? Want a guest bedroom? Adult space? A playroom? A basement can be just about anything you desire. Finishing a basement is great because available floor space is often equal to existing first-story floor space.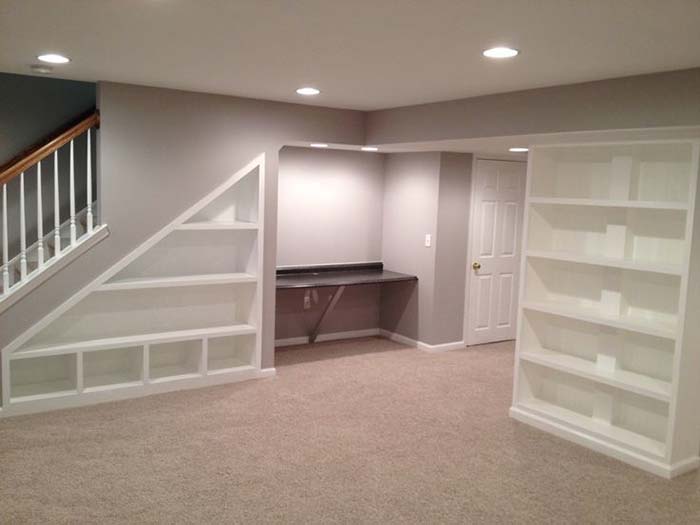 3. Taking Down an Interior Wall
Turn two rooms into one larger room. Again, we are in the realm of creating the illusion of space, rather than creating actual space. Many interior walls are not load-bearing and can easily be removed. However, load-bearing walls are a different story. It's usually best to leave two rooms as two rooms.
4. Repurpose a Room
Yes, it's the old Enclose-The-Porch-and-Turn-It-Into-a-Living-Room trick! An unused space can be turned into a new favorite room with just a little imagination.
Add Built Ins
When everything has a place, it makes your home feel bigger. Our carpentry team can create custom built-ins or cabinets to turn on used space into beautifully organized space.
No need to move to a larger home. A few simple home improvement projects are all it takes to make your current home feel more spacious.
Call Korth & Shannahan Painting and Carpentry Today
At Korth & Shannahan, we've been the painting and carpentry experts in Westchester County since 1979. Voted BEST GENERAL CONTRACTOR by Westchester Magazine.
Call us at 914-238-5388 today to learn more about simple painting and carpentry strategies to make your home feel bigger.