Skip to Content
5 Easy Ways To Upgrade Your Home With Carpentry
5 Easy Ways To Upgrade Your Home With Carpentry
When it comes to customizing your home there's so much that can be done with carpentry. You can install custom cabinets or built-ins to fit your style and decor. Bored with just walls and ceilings? Install architectural moldings to upgrade your look. Try one of these easy ways to upgrade your home with carpentry.
1. Custom Cabinets & Built-Ins
One of the best ways to give a room a facelift is with new custom cabinets. Our carpentry team can build, paint, and install custom cabinets in your kitchen, office, bathroom, entertainment/media center, or wine room to your specifications.
Bookcases, cubbies, and little nooks all help keep you organized and add to the look of your home. Our team of carpenters, the best in Westchester carpentry, can help your designer's idea come to life.
If you can dream it, we can make it!
2. Architectural Moldings
An easy way to elevate the look of your home is by installing crown molding and baseboard. Classic architecture typically incorporates a large number of architectural moldings to accent buildings. Everything from exterior architectural window trim to architectural crown moldings helps to soften a room and add an air of elegance.
3. French Doors/Windows
Older windows & doors may have warped so new is a great idea for functionality as well as design. Exterior and interior French doors allow much more light in and give the appearance of a more open floor plan.
While you are at it, you may want to consider new windows for design and energy efficiency.
4. Shiplap Accent Wall
Shiplap can add instant age, texture, rusticity, and a focal point to any room in your house. They make a lovely backdrop for most rustic/shabby chic or cottage accessories.
5. Faux Beams
Exposed ceiling beams are an architectural feature that allows rooms to have higher ceilings or a decorative element that adds charm. We've noticed that aged-wood beams are one of the features most sought after by homeowners right now. However, old, salvaged-wood beams are usually very heavy, cost-prohibitive, and are often compromised by warping or insect damage. If you are just trying to get the look of exposed beams and don't need the support, a good option is to install faux wood beams.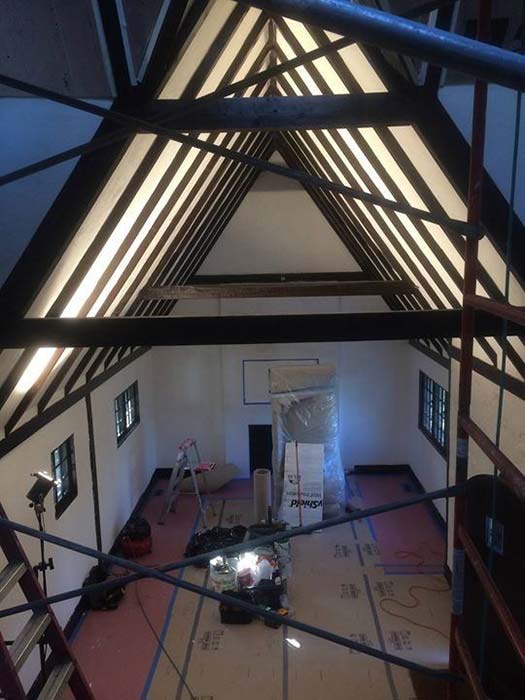 If you live in Westchester or Fairfield Counties please give our office a call for a free estimate and find out what carpenters Westchester can do for you.
Korth & Shannahan Painting and Carpentry has been Voted Best Contractor in Westchester by Westchester Magazine! 914-238-5388.