Skip to Content
5 Creative Ceiling Design Ideas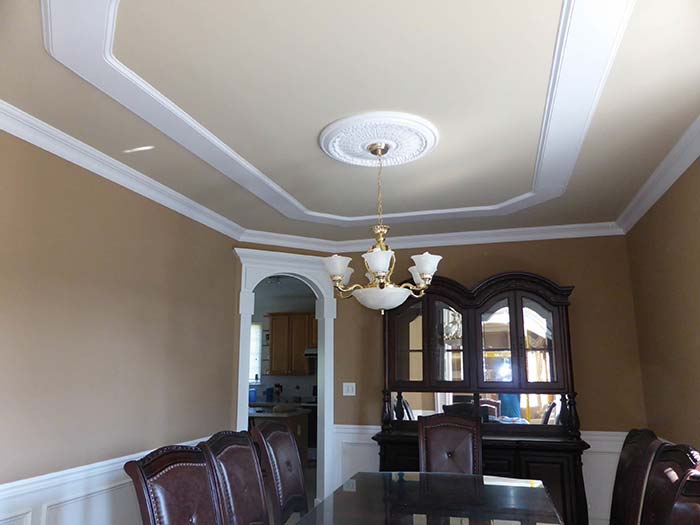 5 Creative Ceiling Design Ideas
Plain old ceiling with white paint? You can do better. Try one of these easy ceiling design ideas.
1. Paint the Ceiling the Same Color as the Walls
It will go with your decor and the extra bit of color on the ceiling will make the room and ceiling flow. You can choose to do a lighter tint, the same color, or one shade darker.
2. Select a Color Inspired by the Room's Decor
If there's a pattern in your room, like wallpaper or an area rug, try choosing one of the colors in the pattern for the ceiling. It ties the whole room together and adds some pizzazz. Painting the ceiling a dramatic color that goes with your decor can be a very effective and dramatic way to go. In this picture the color of the ceiling ties in with the cushions and light fixtures to give the room a cohesive look. The gloss of the paint also reflects light so that the darker color does not make the ceiling seem lower.
3. Ceiling Medallions
Ceiling medallions are a great way to call attention to the ceiling, especially if you have a fabulous light fixture that you want to highlight. This room has a pretty traditional version of the ceiling medallion which goes very well with the traditional style of the room. But you don't have to stop there if you want something more dramatic. One step further than a ceiling medallion is to install some moldings on the ceiling. Moldings add definition to what would otherwise be a big empty space.
4. Go Metallic
Are you looking to up the glam factor? Metallic decor is in all the big design magazines. Consider a metallic ceiling. Either paint or tin tiles will add some glamour to the room.
5. Add Some Texture
Going for a beachy or shabby chic feeling? Beadboard on the ceiling can help. Or are you Looking for a rustic feel? A plank board ceiling or some faux beams can add to the look.
Call Korth & Shannahan Painting and Carpentry Today
At Korth & Shannahan, we've been the painting and carpentry experts in Westchester County since 1979. Voted BEST GENERAL CONTRACTOR by Westchester Magazine. We truly are the best interior painters Westchester NY.
Call us at 914-238-5388 or email today and let the experts true your ceiling into a stylish work of art.