Skip to Content
11 Home Improvement Projects for Fall
If spring is the best time of year to give your home a thorough cleaning, then fall is the best time to tackle home improvement projects. Not only does the cooler weather force us inside more often, but it's also the perfect season to finish things up before a long winter. Which projects are best to tackle in the fall? Here are our top home improvement ideas for fall.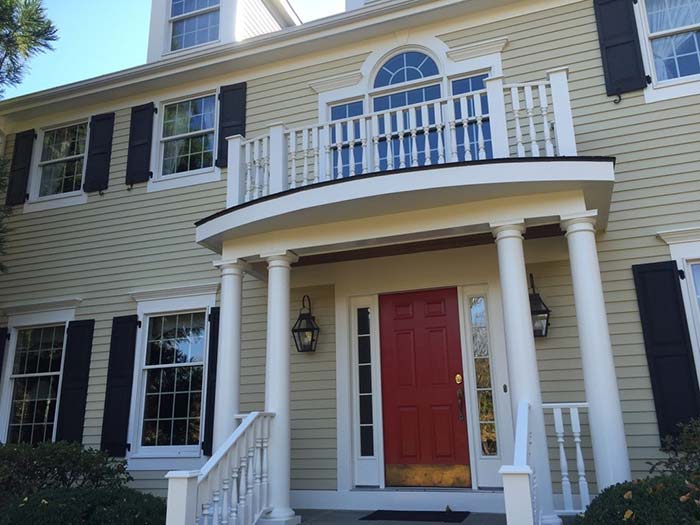 1. Paint Your Front Door
There are few things that enhance curb appeal like a freshly painted door, especially if the paint job is perfectly executed. Fall is a good time for many exterior painting projects, especially before the weather turns icy and wet. Since many fall days don't dip below freezing, it's a good way to beat the summer heat and give your entryway a brand new look.
2. Paint or Re-Paint Your Interior Molding or Trim
Toward the end of fall as the weather hints of snow and rain, it's time to think about the last time you painted your molding and trim. Interior trim painting doesn't only add to your home's aesthetic, it can help cut down on dust and dirt throughout the year, as well. Plus, painting your molding or trim can completely transform a room, especially when you pair a crisp white trim with the rich wall color.
3. Power Wash Your House
After a full spring and summer of heat and humidity, fall is a good time to consider power washing your home. Power washing can make sure that your siding is free of dirt, mold or mildew, and it can give your house a clean glow heading into winter.
4. Wood Repair
After the dampness of spring and the heat of summer, fall tends to be a good time for exterior wood repair on your siding, porches or window casings. This home improvement project doesn't pack the visual punch of a new door color, but it can easily save you thousands of dollars in other damages in the coming years.
Anytime wood is damaged or has wet rot or dry rot on your home, there is a potential for damage to the compound. For example, neglecting wet or rotted wood on your front porch can lead to sags and breaks later, or even allow moisture inside your home. If your region tends to experience a dry fall, this is a good seasonal window to repair and seal your home before the rain and snow of winter.
5. Caulk or Re-Caulk Your Windows and Doors
Water, bugs, and drafty winds all love the nooks and crannies that unsealed or poorly sealed windows and doors provide. Like wood repair, exterior caulking and sealing isn't a project that is going to give you a noticeable visual payoff, but it can save you money on your heating and cooling bills. If it's been a while since you've caulked and sealed around your windows and doors, this fall might be the right time.
6. Paint Your Home's Exterior
Fall is a great time to paint your exterior to protect it for this winter and many more winters to come. A fresh coat of paint will seal all the exterior surfaces from the cold and wet season. Wood graining and hardie plank siding will be protected with paint coating. Gaps and joints that are caulked will reduce wind intrusion. Stucco and brick will be sealed from water and ice damage.
7. Clean Out Your Gutters
Make sure your gutters don't get overloaded with leaves this fall! While this project is on the bottom of many homeowner's "favorite to-do" list, it's a job better suited for the cooler temperatures of fall. Plus, you might be able to time it right so that you clean your gutters just as the last of the leaves drop, leaving your gutters sparkling clean through spring.
8. Re-Mulch Your Perennials
You already know you should mulch in late spring/early summer, but fall can also be a good time to spread one more layer to protect your perennials until spring. Mulch will protect the base and roots of your perennial plants so they come up healthy and whole next spring.
9. Prep Your Fireplace
If you're lucky enough to have a fireplace, fall is the right time to make sure it's in good working order for those long winter months. If you regularly maintain your fireplace, you might not have too much work to do. But if it's been several years, it's time to bring in a pro who can do a full inspection and clean and repair your chimney or flue as needed. Fireplaces can be extremely dangerous when they're not properly maintained, and you'll want to make sure your winter is both warm and safe.
10. Clean and Store Your Lawn and Garden Tools and Equipment
Many homeowners don't know that they should clean and prep their lawn and garden tools for hibernation through fall and winter. There are many articles and YouTube videos about how to clean and prep your lawnmower and other powered yard tools, as well as info on how to store all your lawn and garden tools and equipment in the fall. The real bonus in this project is being able to say goodbye to this type of yard work until next summer.
11. Paint or Re-Paint Your Bedroom
If you haven't painted your bedroom in the last ten years, it's the time! Fall is a good time to redecorate, and painting your bedroom a cozy, restful hue is a fun autumn project. The pros of this project include being able to prevent dirt and dust, seal in old odors and even help with the room's overall insulation (especially if you didn't use high-quality paint in the past).
Many homeowners have painted a room or two on their own but a paint job by a pro can free up your time to enjoy fall weather and activities.