Skip to Content
10 Home Maintenance Tips for Spring
After a long, dark winter, spring's bright sun and warm winds are, well, a breath of fresh air. The only downside? All that sunshine spotlights your leaf-filled gutters, cracked sidewalks, and the dead plants in last year's flower beds. Use a checklist to help you target the areas that need maintenance so you can get your chores done quickly, leaving you time to go outside and play in the sunshine.
Examine the Condition of Your Exterior Paint
Examine the exterior of your home with a keen eye. Your exterior paint is the first defense against damage. It should be redone every seven (7) years. Are you due? Give us a call for a free estimate. Also, did you know that you can now paint vinyl siding? Not due for a full exterior paint but starting to notice exterior dullness, why not give the exterior a good power washing for this spring. Removing dirt, mold & mildew while brightening your curb appeal. Call us now to schedule your power wash or painting.
Examine Roof Shingles
Examine roof shingles to see if any were lost or damaged during winter. If your home has an older roof covering, you may want to start a budget for replacement. The summer sun can really damage roof shingles. Shingles that are cracked, buckled or loose, or are missing granules need to be replaced. Flashing around plumbing vents, skylights and chimneys need to be checked and repaired by a qualified roofer.
Examine the Wood Trim
Examine the wood trim around windows, doors, railings, and decks. Make repairs now before the spring rains do more damage to the exposed wood. Now is the time to deal with replacement carpentry before any insects find their way into wood rot. Also, is the paint cracking or peeling? Prevent any future damage with a new paint job.
Inspect the Concrete
Inspect concrete slabs for signs of cracks or movement. All exterior slabs except pool decks should drain away from the home's foundation. Fill cracks with a concrete crack filler or silicone caulk. When weather permits, power-wash and then seal the concrete.
Seal/Re-stain the Deck
If you have a patio deck, inspect the wood for stains, discolorations, or warping. If you find any, consider resealing the deck. To verify that your old application still works, pour some water onto the dry deck and check to see that it beads up, if the water does not bead, it is time to re-coat the deck. Check for any sharp edges, splintered wood, or rotting wood. Also, look for rusting nails or any nails that are coming out or weakening their connections. And be sure to check the railings and stairs to make sure they are secure and not wobbly.
Check the Gutters
Check for loose or leaky gutters. Improper drainage can lead to water in the basement or crawl space. Make sure downspouts drain away from the foundation and are clear and free of debris.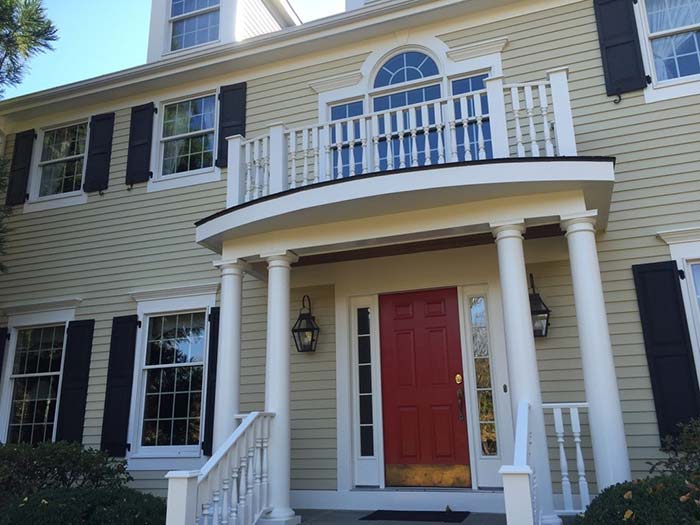 Front Door
Inspect your front door for any damage and peeling. Adding a pop of color to your front door is an excellent way to bring spring into your home. Red, yellow, and turquoise are all the rage in interior design homes.
Service the AC Unit
Have a qualified heating and cooling contractor clean and service the outside unit of the air conditioning system. Clean coils operate more efficiently, and an annual service call will keep the system working at peak performance levels. Change interior filters on a regular basis.
Custom Built-Ins
When everything has a place, clean-up becomes less of a chore. Custom built-ins around the fireplace, in the entry mudroom area, and laundry room really add to the value of your home. Give us a call & check out our great carpenters at work.
Interior Paint
The easiest way to bring spring indoors is to add color inside. Consider a new color in the living room. Benjamin Moore is saying white is the color of the year as a neutral backdrop but you can also add color with pillows, throws, or furniture. Not looking to redo all your furniture, let's add an accent wall. Give Korth & Shannahan Painting and Carpentry a call, best painters in Westchester.
Want to spend your weekend relaxing or enjoying family time? Give Korth & Shannahan Painting and Carpentry a call 914-238-5388. #westchester_homes #westchester_painters #westchester_carpenters #chappaqua #scarsdale #bedford #armonk #greenwich @korth_painting #korth_painting