Skip to Content
8 Ways to Bring Your Outdated Kitchen up to Date
Many people consider the kitchen to be the heart of the home. Bring this area of your home up-to-date to create a warm and inviting area for your entire family. Here are some ideas to get you started.
Add a Backsplash
One of the easiest ways to add instant pizzazz to a kitchen is by tiling the backsplash. This small project can really make a big impact.
Paint an Accent Wall
Paint can make the biggest change. If you do not want to paint your entire kitchen, consider painting an accent wall. An accent wall adds an area of interest.
Paint Your Cabinets
If your cabinets are outdated but in good shape, you should consider painting your cabinets. You can even update the style of the doors. Either of these projects is much easier than a full remodel.
Update Your Hardware
You can change also the appearance of your kitchen cabinets by simply changing out your cabinet's hardware. This hardware includes your cabinet's hinges, doorknobs, and pulls.
Upgrade the Lighting
You can create a new ambiance in your kitchen by installing new lighting fixtures. Whether you want to add task lighting above your workstations or want to add an overhead lighting fixture, think about how you use lighting and where you need additional lighting and begin adding it to your existing kitchen.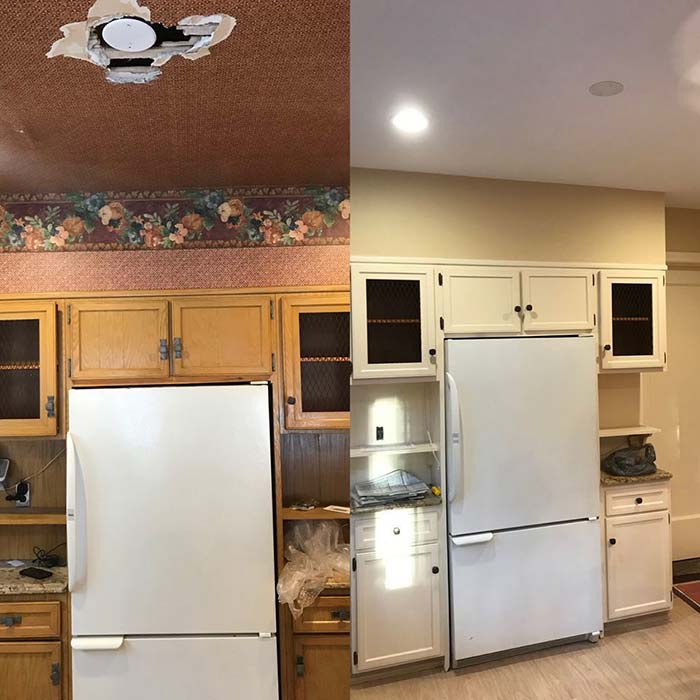 Add Some Personality to the Windows
New window treatments can totally change the look of your kitchen. Choose a new curtain combination that coordinates with your overall kitchen design.
Rearrange
Over time, your wall decor seems to fade into the background because you have gotten used to it. To help create new interest, rearrange your wall decor. This simple task can totally change the look of your kitchen.
Upgrade the Floor
There are many flooring options for your kitchen. Whether you choose to install a hardwood floor or a tile floor, you can change the entire look of your kitchen.
Need help to update your kitchen? Call the experts and Korth & Shannahan Painting and Carpentry 914-238-5388.